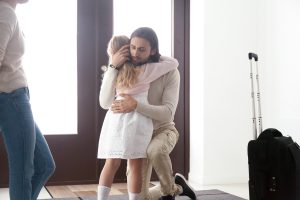 As the coronavirus pandemic continues to evolve, parents who share custody of their children are facing new challenges this summer. Stay-at-home orders, social distancing, working from home, and travel restrictions are the new standard, and those who are coparenting in different households can use some extra guidance on how to be successful.
Here is what you need to know.
Experts Agree—Follow the Orders Unless You Make a New Agreement
You can continue using your regular shared custody schedule or agree on a new plan that feels right for you, your co-parent, and your children—as safely as possible—unless a judge changes your order.
If you're not in agreement or the courts rule in favor of one parent, the consequences can be heartbreaking. An example of what we have seen is a parent took their child, during their visitation to another state that was on lock down due to the COVID virus. She Spies Private Eye, was there to document the evidence and show the parent was using poor judgment and not thinking about the well being of the child.
Please know, in these unprecedent times, it is very common to be anxious about co-parenting. Therefore, She Spies Private Eye, is here to assist parents through these stressful times
Here are four ways to get in sync and keep everyone's wellness in mind.
1. Come to an Agreement About How to Monitor Health
Discuss how you will monitor every resident's health in both households. Perhaps you take your child's temperature every time they move between homes. Also be sure to disclose any symptoms that could be related to the virus. If you know you've been exposed to someone who is sick or showing symptoms, tell your ex immediately.
2. Be Transparent
Set boundaries about what your children can and cannot do when you are away from your child. After all, frequenting supermarkets, pharmacies, or friends' homes elevate the risk of exposure.
3. Discuss Temporary Schedule Changes
Whether it's moving to a "week-on, week-off' arrangement to minimize child exchanges, or temporarily designating a "weekday parent' and a "weekend parent," you'll want to periodically review any temporary agreements.
4. Be Smart About Drop-offs
Ideally, social distancing should be maintained during drop-offs. To do so, get creative. Consider establishing one parent as the main source of transportation temporarily or meeting at a parking lot to exchange the kids. Whatever you decide, make it more welcoming and less jarring for the children.
She Spies Private Eye Investigations
Do you believe your ex is violating your established custody orders or temporary agreements during the pandemic? Or perhaps you think that sending your child to your ex's home poses a risk to your child's health? Child custody is often a complicated affair, and even more so during the current circumstances.
If you need help with custody issues, you can seek out a private investigator at She Spies Private Eye to investigate the situation and protect the child's welfare with expertise and compassion.