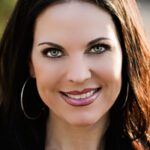 Growing up, Anji Maddox, owner and operator of She Spies Private Eye, Inc., was not your typical little girl in a lot of ways. While most girls her age were playing with Barbie Dolls and practicing ballet, Anji was hanging out at libraries. While this may sound atypical to you, to Anji it was perfectly normal as she greatly enjoyed playing the role of an investigator in training, helping her mother,a genealogy expert, investigate and track down people from the past. While Anji's friends and classmates were reading Nancy Drew books, Anji was a real-life Nancy Drew!
She grew to love the projects that her mother would assign to her and the satisfaction that came with unraveling a mystery. And when it was time for Anji to go off to college, choosing her major was an easy and natural decision. Anji earned her degree in criminal justice. While she was earning her degree she was strongly encouraged by one of her professors to consider becoming a probation officer. Her professor helped her land a job in Adult Probation, writing pre-sentence investigation reports, which were vital in helping judges determine the appropriate sentence for defendants. This job required extensive investigative skills, resourcefulness and the ability to be exceptionally detail-oriented.
Anji then did her college internship with the Victoria County Juvenile Probation Department where she cut her teeth as a Juvenile Probation Officer (JPO). She loved it and found that the kids responded very favorably to her compassionate approach. She loved it so much, in fact, that she accepted a permanent job as a JPO and spent the next seven years refining her skills and developing a real passion for helping the challenged and at-risk youth that she was appointed to work with.
Her experience as a Probation Officer, along with her degree in criminal justice, led Anji to the Austin Police Department (APD)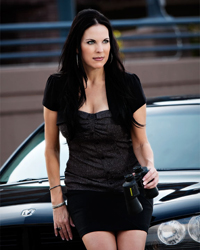 where she was hired as a Background Investigator. It was during her time with the APD that her love of investigation led her to the realization that she wanted to become an independent private investigator.
Anji, not one to be dissuaded by risks, took the leap and decided to pursue her career as a private investigator. She apprenticed with another well-established private investigator for a year, and then in 2003 opened up She Spies Private Eye, Inc., which has been flourishing ever since.
Anji has an undeniable love for child custody cases and is exceptionally interested in helping the children that are frequently caught in the middle of ugly divorce settlements or court cases. This no doubt stems from her previous involvement as a JPO and the fact that she is a very proud mother of four children.
According to Anji, being a good private investigator requires more than just experience and skills. It also requires a true passion for investigation, a personal interest in each client's case and a fierce tenacity. This is precisely what has fueled Anji's success as well as the success of She Spies Private Eye, Inc.
Anji is a member of the following:
Region 4 Board of Director, Texas Association of Licensed Investigators (TALI)
Texas Association of Licensed Investigators (TALI)
TALI Chairman of the Unlicensed PI Committee
Former TALI, Austin Chapter Co-Director
National Association of Investigative Specialists (NAIS)
National Council of Investigation and Security Services (NCISS)
Association of Christian Investigators (ACI)
Member of Austin Chamber of Commerce
Member of Georgetown Chamber of Commerce
Ambassador for the Round Rock Chamber of Commerce
Awarded Ambassador of the Year 2008
Volunteer for American Association for Lost Children (AAFLC)
Member of Westlake Chamber of Commerce
Anji frequently does speaking engagements. If you would like to talk with Anji about the possibility of her speaking at your event, call her at (512) 246-9889.