Dealing with Corporate Fraud? You Will Need a Corporate Investigator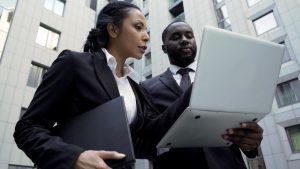 Have you noticed something amiss in your business operations? Do you suspect insurance fraud or employee misconduct? Corporate fraud can go undetected for years until something suspicious draws attention to it. That's when you need a corporate investigator.
She Spies Private Eye can be there for you from the moment you sense a potential issue. Our team can provide a comprehensive internal or external corporate investigation, whether it involves a current or former employee, a business partner, or a merger. Partner with us and you'll benefit from over 70 years of collective experience with the following services:
Commercial Due Diligence
Before an acquisition or merger, businesses must perform commercial due diligence and fact-checking to know exactly what they're entering into. Lawyers will often seek the assistance of She Spies to investigate contract issues, financial transactions, criminal records, perform asset checks, and more.
Witness Interviews and Statements
Corporate investigations often require the bolstering of a witness statement. Each corporate investigator is highly trained and experienced in locating and interviewing witnesses to obtain sworn statements, which may be used for trial. Statements are recorded, transcribed, notarized, and forwarded to the client.
Asset Checks
An asset investigation can aid you in locating public records that confirm that personal property or real estate is held by a person or corporate entity. Depending on your needs, She Spies Private Eye can perform a thorough asset search to verify the financial viability of a corporate entity, uncover insufficient funds prior to litigation, establish business holdings for collection, and more.
Corporate Surveillance
The actions, habits, and routines of individuals involved with insurance fraud, employee violence, and other suspicious activity often require surveillance. Our investigators are the experts you need to observe, monitor, analyze, and recommend a customized plan. This may involve bug sweeps and countersurveillance, hidden digital video, stationary or mobile surveillance, and other forms of undercover work. Mostly importantly, we do it discreetly and professionally, giving your attorney the documented evidence he or she needs for a trial.
Fraudulent Claims Investigations
When dealing with cases of fraudulent claims involving insurance or workers compensation, you may need an insurance fraud investigator to gather evidence and cease additional loss, especially before a hearing with the claimant. She Spies can tailor your investigation and surveillance by becoming an expert in the claimant's habits. We'll work diligently to provide photo and video evidence, along with detailed reports to support litigation of false insurance claims.
Employee Terminations
Terminating a hostile employee can create a volatile situation in the workplace. Corporate leaders and HR managers must be aware of any precursors or signs that the employee may pose a risk of violence or violation of safety protocols. Before their termination, may companies hire She Spies Private Eye for employee surveillance to prevent incidents and ensure protocols are followed upon exit. Our investigators are also available to surveil and obtain evidence of suspected employee misconduct.
If you're a business owner or lawyer looking for a corporate investigator or insurance fraud investigator in the Austin, Round Rock, or Dallas areas, partner with the most trusted experts in the industry.
Contact She Spies Private Eye, a corporate investigation company today at 512-246-9889 or 214-227-8177.