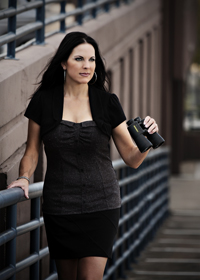 If you're dealing with a situation that's causing you to wonder if you should hire a private investigator, it's probably a good idea to follow your instincts. Whether it's a cheating spouse, a runaway child, or a domestic dispute, the help of a professional could make all the difference in achieving justice. But first you need to know the specifics. What is a private investigator, and what should you look for before you hire one?
What is a Private Investigator?
Private investigators use extensive knowledge and experience coupled with technologically advanced investigative tools and resources to uncover the unbiased truth about the subject at hand. Many large corporations, small businesses, law enforcement, attorneys and individuals hire a private investigator when they feel victim to wrongdoing that causes financial or emotional implications. If you're dealing with a situation like this, you may need some professional help. When hiring a detective, it's best to talk to the detective in person. Here are some questions to consider:
Is the detective experienced?
Ask the private detective how they came to be a private investigator, and how much professional training and experience they have. Do they have a texas private investigator license, or other licenses and accreditations? Are they a part of a company of international investigators? Many detectives are ex-law enforcement or military and bring skills from their previous profession. You're going to want to work with someone who has, in essence, seen and done it all. This will increase the likelihood that they're doing the best they can for you.
Are they a member of the World Association of Detectives?
When you hire a private investigator, you want to know they have superb ethics and will do right by you. As a member of the World Association of Detectives, a detective has been specially chosen based on their strict adherence to the precepts of truth, accuracy and prudence in their personal and professional backgrounds and business affiliations. Together with other likeminded professionals, they work to promote and maintain the highest ethical practices in the profession of private investigator service. In addition to a Texas private investigator license, if they have a membership with this organization, you know you're in good hands.
What field of investigation do they specialize in?
If you searched "what is a private investigator," you'll find that many of these professionals have an area of focus. You may need someone with specialized skills in surveillance, fraud, divorce or child custody. Or maybe your needs are more focused on workplace issues like personal injury or insurance. Think about your situation and the types of skills you require. Then, when you meet with the detective, ask if they plan to have the work outsourced. You'll want to know who will have access to your confidential information, not to mention you may be better off cutting out the middleman.
Is the detective local?
Many detective investigation agencies appear to offer national coverage or even claim to be international investigators. Working with a local detective can not only cut down your costs, but it can provide some peace of mind knowing they're just a drive away if you need to meet with them.
While having a Texas private investigator license or being a member of the World Association of Detectives validate the professionalism of the detective, at the end of the day, you'll want to choose the best investigator for you. Once you meet them and decide you like them, ask if they'll be personally handling your case. When it comes down to it, trust goes a long way with these sensitive situations.